Paint By Numbers Kit Galloping Horse
from
£30.70
incl. Tax
+ shipping costs from £8.45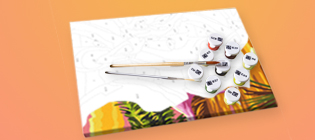 Ready to hang
paintings by numbers on canvas - paints, brushes and instructions are included
canvas stretched over a wooden subframe - your painting is ready to hang!
all inclusive option (the whole set included)
all packed in a dedicated cardboard packaging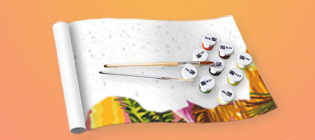 No frame
paintings by numbers on canvas - paints, brushes and instructions are included
no additional frame - frame your work yourself or fold it and store in a tube!
the best pricing option
dedicated packaging (decorative tube) - perfect for a gift!
Paint by Numbers Canvas "Galloping Horse"
The paint by numbers picture "Galloping Horse" is an original way of spending free afternoon. The paint by number kit helps to develop coordination, manual skills and perseverance. If you've always been good at drawing but want to learn how to paint, you will certainly be satisfied with our product. "Galloping Horse" is a painting kit containing a picture with numbers, acrylic paints in necessary colours and paintbrushes of different thickness. Thanks to the simple instructions and a little help, painting by numbers will become your new favourite hobby.
A multicolour paint by numbers canvas "Galloping Horse" is a great proposition for people at any age. If you have a friend or a family member that has artistic inclinations, then the paint by number kit "Galloping Horse" can also be a great birthday gift idea. After being finished, such picture will serve as an original decoration. The paint by number kit "Galloping Horse" is one of various designs in this collection: in bimago gallery there is a great selection of kits both for children and for adults.