Canvas Art Print

Lunar phases
Handpainted option available
<% var discountval = Math.round(100*(discountprice.replace(",",".") - price.replace(",",".") ))/100 %>
Technique
<%= techniqueLabel %>
Change
Stretcher bars
<%= loomLabel %>
Change
Accessories:
none chosen yet
Add
Price:
All prices include tax!
£125.86

<%- discountprice %>
Canvas prints
9-10 days (working)
Premium Canvas Prints®
9-10 days (working)
Handmade paintings
19-20 days (working)
We send our products to many different European countries, using the services of most prestigious international carriers. Our trusted partners in logistics are above all UPS and DPD.
Handmade painting on canvas
---
A Bimago handmade painting is a combination of the originality and high quality. Each artwork is executed on individual request by our painters - graduates of prestigious art schools. Thanks to the unique style of the artist's brush strokes the chosen painting will be executed accurately and will become a truly original work of art.In Bimago - we are using an Italian cotton canvas and a professional acrylic paints. Our quality control specialists always perform a meticulous verification making sure every painting is properly finished and its canvas stretched precisely.
Premium Canvas Print
---
Premium Canvas Print is an original technique developed especially to Bimago customers. The highest resolution print is covered with clear, structural varnish so that the canvas gains a unique texture and gloss typically found on oil paintings. Moreover the color is additionally strengthened and the pigment becomes more resistant to moisture and UV light. Imposing varnish is made manually by skilled painters who accurately reproduce traces of the brush or spatula on a canvas. In order to make the painting's texture as natural as possible we use the best products on the market - a Spanish acrylic gel, which is durable and absolutely safe. You will see and feel the difference!
Canvas print
---
When ordering a canvas print you are getting, not only the most popular wall decoration. When you receive an ordered canvas print you can immediately hang it on your wall - the edges of the stretcher bars are finished off and covered with canvas so you won't need any additional framing. You will receive your painting printed on the best Italian canvas. We are using large format printers produced by a reputable Swiss company – Zünd with print resolution: up to 360 dpi. As a result, the pattern can be mapped with true Swiss precision. Printing properties are comparable to quality achieved at the best digital laboratories making sure the canvas print will be a beautiful decoration in your home.
| | Handmade Painting | Premium Print | Canvas Print |
| --- | --- | --- | --- |
| Unique & with artistic flair | | | |
| Visible painting texture | | | |
| Image with photographic details | | | |
| Production time less than a week | | | |
Wooden stretcher bars (2см)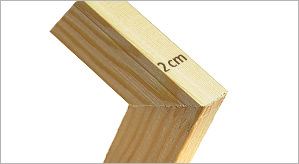 Eco pine stretcher bars
---
In order to always make your painting beautifully presented (even without additional frameworks) - we fasten the canvas on a matched stretcher bar made of natural, solid pine wood - standard version thickness is 2 cm.
We recommend those stretcher bars especially for:
multipart paintings,
small and medium-sized apartments,
walls containing other decorations
3D Gallery stretcher bars (2.8cm)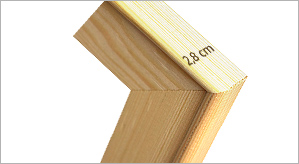 An additional 3D effect
---
Thicker stretcher bars are perfect for paintings with larger sizes, especially dedicated for the spacious interiors.
We recommend those stretcher bars especially for:
one piece and square paintings,
paintings in large formats,
simple, minimalist interiors
Maxx stretcher bars (4cm)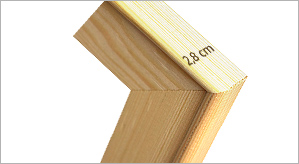 Maximum visibility of the painting
---
If you want the painting to be an expressive decoration of the apartment you should choose a solid stretcher bars with 4 cm thickness. It's made of the highest quality pine wood which guarantees maximum exposure on your wall.
We recommend those stretcher bars especially for:
paintings that will be the only or the dominant decoration,
very spacious interiors (lofts, hotel lobbies, conference rooms)
"Lunar phases" canvas painting
Canvas Art Print "Lunar phases" - and other canvas paintings from Acts category will decorate your interior space in attractive way. They are mostly used to decorate home (especially bedroom and living room, but also hall, dining room or kitchen), they give amazing effect also in other interiors like: offices, restaurants or waiting rooms. "Lunar phases" canvas painting consists from 4 parts. Interesting, white motif will surely match to interiors , which are in similar colours. "Lunar phases" canvas print will be great as a gift for every home decoration lover interested in motifs like: fantasy, people, silhouettes, women, black and white, night, acts, erotica, canvas art print, paintings on canvas, paintings, handmade paintings and canvas print.
Products from bimago gallery are available in form of digital canvas print, canvas printed by Premium Print technique or even hand made painting made for order. "Lunar phases" canvas paintingmade using Premium Print technique with gel liner will give "Lunar phases" unique, artistic look.